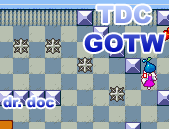 Congratulations to Zerotau and Gustav of Fallen Angel, with their joint entrant for the Klik-Me Mutation Competition Dr. Doc. This is the second Klik-Me competition entrant to win the GOTW award, and it is well deserved too.

Click here to download the GOTW

This weeks entrants - Submariner, Panzermeister, Living Froggy, and Poxie.

Lots of stuff submitted this week, but I've only chosen four as the rest are either demos, abandoned, screensavers, or multiple entries by one person!