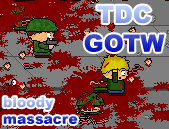 A nice and easy victor this week, for the GOTW award. Congratulations to Jusargh who created the ultra violent Bloody Massacre. This game pulverised the opposition and is pretty fun to play.

Click here to download the GOTW

This weeks entrants - Spy Wars, Rom, and Avoider 1.5.

Yes, it's been another Week Of Death regarding submissions. The communiteh?! Dying?!!! Surely not!