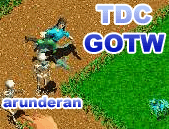 75MB-er Arunderan, created by Tiles is this weeks winner of GOTW, congratulations buddy. This game dominated the GOTW poll; all of the other nominees didn't get more than four votes each!

Click here to download the GOTW

This weeks entrants - Halloween Party, Samhain, Super Stun N Run, and The House.

Halloween submissions this week have been plentiful, but really, it was an uneventful week... more games next time, Mr Communiteh!?