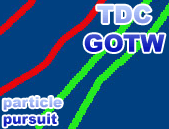 This GOTW image of Particle Pursuit is truly inspired, it really is. Look at all that detail! In all seriousness, congratulations to Software Wolf, who made the thing :)

Click here to download the GOTW

This weeks entrants - Tanoojicade Enhanced, Elektroid and Warbot 4-in-1, War Of Fantasy, Santa Claus Adventure, and Astro Dodger.