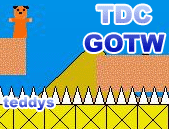 Apologies for the GOTW delay again; I had some important family events to attend to. In the meantime, congratulations to U.2 for his game Teddys, for winning this weeks GOTW. It got 11 votes.

Click here to download the GOTW

This weeks entrants - Spaceman Steve: The Landing, Ainevoltas, All Star Hackysack, HQresizer 2.0, Anina Snowboarding, Block Stack Screensaver, Slam, Sudoku Time!, Meeklits, and Atake X.

Just under ONE WEEK until the competition deadline passes. There have been three entries submitted so far. The final push is upon us; best of luck to all who are working on their applications.