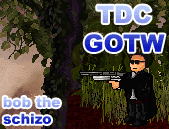 Bob the Schizo, created by Colej_uk, wins this weeks GOTW award - congratulations!

Click here to download the GOTW

This weeks entrants - MMF/TGF *.exe scanner, Tomies Adventures (Episode 1 - An Unforgotten Day), and Ecosystem Simulator.

Well yeah, only three proper products to consider here. And only one of them is a proper game! PS: It's my birthday soon. Give me lots of nice presents.