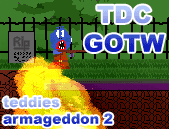 UPDATE: Snake 360 does NOT win GOTW, due to an admission of cheating. Instead, the award is now transferred over to Teddies Armageddon 2, which polled the second highest result. This game was created by U.2.

Click here to download the GOTW

This weeks entrants - Lubber Battles, Bordy Gordy, Chaos Mazes and R-Shmup Engine.

Let this truth be known: we do NOT tolerate cheating.