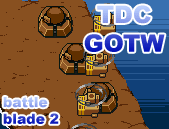 Battle Blade 2 gains the upper hand in this weeks duel for the GOTW award. Created by Monkeycrew, it's proven its worth.

Click here to download the GOTW

This weeks entrants - Green Climber (Screensaver), Get A Life 1, Talmin II, Weird Colony, and Heredity.

Five things this week, and not all of them are games. Try them all before casting that vote and keep submitting your stuff to TDC! Without you guys, there is no GOTW. Or even TDC for that matter.

Hijacked by Shab: The Xmas compo results will be out this week! Stay tuned!