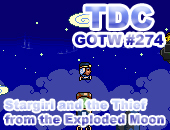 Bernie captures yet another GOTW with

Stargirl and the Thief from the Exploded Moon

.



Click here to download the GOTW.

We have quite a selection this week and I'm sorry about that bad GOTW image, the template doesn't properly open in GIMP. I'll have one of the other admins replace it when they get a chance!

Trent Turtle 1 & 2 pack

,

Sub-Zero Condition 2: Power in numbers

,

Space Invaders Engine

,

ONYX 2: Clinging Soul

,

Hover Tank Battle Arena

,

Ranger Tank

,

Super Mario: Mushroom Chaos

, and

The Yellow Shape

.

Good luck to everyone in the poll!



UPDATE: Thanks to Adam for making a REAL GOTW image. Much appreciated!