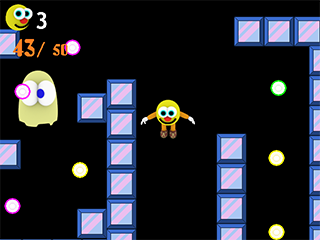 Two Pacmen games in a very short space of time by two different developers, yet both seem inspired by some of Five Nights At Freddie's creator Scott Cawthon's earlier games.

Firstly, Pac-blob by The MPP (with accompanying news post image) has this to say...

"Pac-Blob got himself stuck in a maze, and it's your job to help him get out... There are multiple ghosts that walk around the maze. Don't touch them! If you touch them you loose 1 life. If you loose all your 3 lives you get a game over. Enjoy! "

... while Man-Pac by BigAl0104 created his interpretation fairly quickly, and has this to say...

"It looks like Man-Pac has gotten himself into a maze full of disgusting Goo Monsters. He wants to find an exit, but he's really hungry, so he finds himself some nice and delicious food that he can eat inside the maze. "


Click here to download Pac-Blob!
Click here to download Mac-Pac!

Phew.