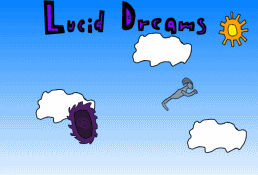 Happy New Year and (and decade) TDCers! I've gone through the pending games list and approved some games for you all to to play: MonadoBoy64 has brought us three new games made with Clickteam Fusion 2.5+: Junk! ("a space arcade game"), Eolo ("an arcade space shoot'em up") and Lucid Dreams ("a shoot'em up that was made for the Melrose Game Jam").
We also have three games that are the authors respective first submissions to TDC: INCREDIBLE CRAFT!!! has submitted Stick Defend ("A mouse-controlled defence game") made in The Games Factory 2. Joshua Smith has submitted Alien Takeover ("This game is about aliens taking over your planet. Kill to survive!") made with Clickteam Fusion. Felix Wolf submitted Pump Pressure Sprayer ("Grab the pump pressure sprayer and defend your precious plant from thrips!") made with Clickteam Fusion 2.5+
Throughout 2019 have also been more games submitted to TDC than have been listed on the homepage, so check out https://create-games.com/downloads.asp for the full list of accepted games!