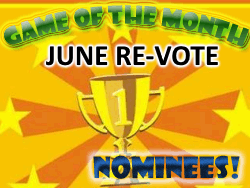 Unfortunately the last Game of the Month poll didn't work because not everybody could vote so please vote again using the poll facility. The games are the same as listed here. Sorry for this irregularity.
The answer to the question "What is your favourite modern gaming console?" was the Nintendo Switch which got 15 votes (compared to 4 for the PS4 and 3 for the Xbox One)
Games from July (will be subject of next GOTM poll):
Games from August (so far):
In other news, Kliktopia now has 1,691 entries and if you go to the details page for a game on Kliktopia it now links through to the related game entries by the same author at The Daily Click. Let us know if any links are missing and if you have old games to archive then try out the Kliktopia Uploader tool.