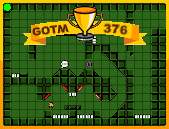 Well done to BALD MAN by Devid K, which was voted November's Game of the Month. Devid re-joins us for the December GOTM, with the full line-up being:
In addition to these games recently added to The Daily Click, hundreds of games have been added to Kliktopia over this month, including a number which were archived from The Daily Click. Thanks to everyone who contributed old games to be preserved.
And finally, I have the sad announcement to make that beloved and longstanding member of the Click community Paul Boland passed away on the 14th of January. There is a thread for Paul Boland on the Clickteam forum where people have been sharing their memories of Paul.