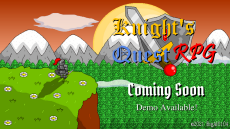 Rather than a Christmas competition, we're going to be getting into the festive spirit by promoting Christmas cooperation in a few ways:
Projects - Post your Christmas and non-Christmas Click game projects on The Daily Click and provide constructive feedback on other projects and provide constructive feedback and support for existing projects (including testing game demos and betas).
Ideas - Share any ideas for fun Christmas games that you are happy for others to use.
Tags - Everyone who posts a festive Click game they've made to The Daily Click before Christmas will get special tag.
Here are the most recently updated projects:
Knight's Quest RPG by BigAl0104. Embark on an epic journey to rescue Princess Amelia from the evil Karlov!
Project Zi by vSv. A platformer adventure with 90's influences.