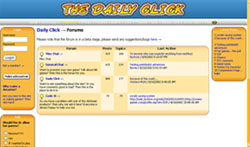 Happy new year and welcome to 2022... and happy 20th anniversary to this iteration of The Daily Click!
That's right, if you head to this news page you will see the inaugural post of the 'new Daily Click' from Rikus Kras back on the 1st of January 2002. I became member #142 the following day on the 2nd of January, and since then we've had hundreds of members, games, competitions, forum posts and news articles.
Read more about this event and more on The Daily Click's Timeline which covers the period of 1994 to 2008 and feel free to share any of your own memories (and story of how you found this site) in the comments section!