Review: Bernard & Hank : Springtime Again
| | |
| --- | --- |
| Author: | Hill Gigas |
| Added: | 17/11/2007 |
| Overall: | |
| Average: | 8/10 |

Well here is a very interesting little game I ran across while browsing the archives. Bernard & Hank is all about two guys who are... on a mission to... save their... eggs... from corporate henchmen who have apparantley taken over their farm. The game might be about something else... but it didn't tell me.

Gameplay is super solid. The engine is stable and easy to use. You run, you jump, you shoot. Collision detection is spot on and platforming is a breeze. Excellent work. The only reason that gameplay gets a 9 instead of 10 is because I would have liked to have seen a few extra weapons along the way, or something to spice up the gameplay from level to level.

Graphics are outstanding. This could have easily competed with any SNES game on the market back in the day. Parallel scrolling is smooth, enemies and characters are well drawn and animated, and every level is colorful and rich with detail. Graphics are a perfect 10 all the way.

Sound served its purpose, but not to the level of the graphics. Sound effects are just right, and everything fits well. The music is also fitting, but the midi track seems to be a bit short and it repeats often.

Lastability is somewhat of a mixed bag. The graphics and gameplay will certainly encourage you to keep playing. The only problem is that most levels are contructed the same, with similar scenery and similar enemies. A bit more variety with levels may have pushed this to an 8 or 9. For a game as gorgeous and creative as this, I would have LOVED to have fought some big creative bosses as well.

This is a very nice game with rich graphics, good sound, a solid engine, and some fun characters. At the very least, it shows what MMF is capable of with a creative mind behind the wheel. My only complaint is that I never got to fight a giant corporate chicken riding a souped up tractor with mounted egg launcher. Maybe in the sequel?


| | |
| --- | --- |
| Presentation: | |
| Gameplay: | |
| Graphics: | |
| Sound and Music: | |
| Lastability: | |
| Overall: | |

Download This Game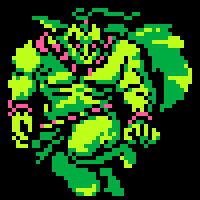 Hill Gigas
Reviewing Madman
Registered
07/06/2004
Points
257