Review: Treasure Hunter Man
| | |
| --- | --- |
| Author: | Hill Gigas |
| Added: | 16/10/2008 |
| Overall: | |
| Average: | 9.5/10 |

Here is a brilliant and, unfortunatley, unfinished game called Treasure Hunter Man. Everyone should know this author by now, responsible for other icons of klik gaming such as "A Game With a Kitty" and "Stargirl". This game is just as much a work of art as the previous submissions, and it's only flaws are a result of the game being unfinished and unpolished in some areas. The name of the game itself simply doesn't do this game justice. There is a masterpiece here, and seems to be the victim of masterpiece fatigue on the part of the author.

Once again, this author has designed a near perfect game engine. Play control, hit detection, and platforming are spot-on. Characters move convincingly, and all actions, attacks and enemies feel like they have real weight to them. This game features one of the best klik engines released in a long time, so it's worth a look for that aspect alone. Gameplay only suffers a 1-point deduction for the lag in attacking. Pressing the attack button doesn't instantly trigger an attack, but instead happens about a third of a second later. That may not sound like much, but feels like an eternity in close combat.

The beauty of this game is evident from the start. Colorful multiscrolling backgrounds, rich and detailed landscapes, and quirky well-animated enemies and characters fill every screen. There is movement everywhere, animations are smooth and colors are rich. The graphics are also complimented by plenty of visual effects as well. You will definitely feel immersed in this world from the very beginning.

Music is well chosen and suits the game well. Sound effects are also very well done. Attacks hit hard with solids thuds and swipes, and explosions and other effects strike with crisp and powerful sounds. The game is kept more upbeat by Megaman style explosions and sounds for combat, explosions and your own death effect as well.

By the authors own admission, this is not a long game. It's unfinished towards the end, and the game isn't as long as it might have been otherwise. This is very unfortunate, but there is still enough of a game here to make the download well worth it. The game world as it is now is still much larger than most klik games and can still provide more gameplay than most klik games. The areas available will keep you interested, and have enough variety in enemies and bosses to keep you coming back for more. There is also a simple but effective save system, with save checkpoints placed in all the right places. This is good, because on normal mode you'll only get two hearts to start with!

Overall this game is a work of art that just didn't keep the authors interest quite long enough. It's not as long as the author intended, but there is still enough here to provide some action packed hours of gameplay. I hope that we'll see another game like this soon, and hopefully next time with a more deserving title! Recommended for any platformer fan!


| | |
| --- | --- |
| Presentation: | |
| Gameplay: | |
| Graphics: | |
| Sound and Music: | |
| Lastability: | |
| Overall: | |

Download This Game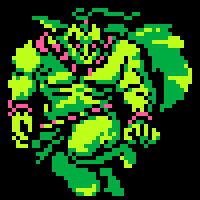 Hill Gigas
Reviewing Madman
Registered
07/06/2004
Points
257