Review: Slasher Boy Halloween Competition Demo
| | |
| --- | --- |
| Author: | Rikus |
| Added: | 05/11/2009 |
| Overall: | |
| Average: | 9/10 |

From the very first menu screen, you know this game will something bloody special. The menu is also very cool put together and you will soon walk to the right to start your adventure!


In the game you are slasher boy and you are the worlds only hope of getting rid of some strange ghosts! The graphics in the game stand out and are very well done, from slasher boys animations to the background and blood effects lots of work went into these. You have can slash the ghost or use them as a bouncing board but if you bounce wrong you soon find yourself in a ditch.

The game is very hard and you will die often and hard. You do go back to a checkpoint that is not to far away once you loose a life but it can be frustrating at times.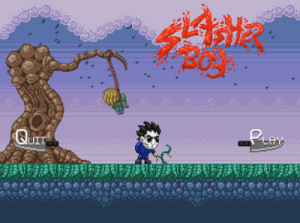 Screenshot 2



If you keep at it you will be rewarded with some very cool gameplay elements later on and at the end of the game with a very cool boss fight.

While the graphics and gameplay draw you into the game the sound effects almost draw you right back out, it also does not help the game does not have any music, this is a bit of a let down some scar music and if the sound effects had a bit more bit to them that would have completed the package.

As it is now this is a great slasher action game that while being hard rewards you if you keep pushing yourself more and more. I had a great time playing this one!


| | |
| --- | --- |
| Presentation: | |
| Gameplay: | |
| Graphics: | |
| Sound and Music: | |
| Lastability: | |
| Overall: | |

Download This Game

Rikus
Administrator
Crazy for News
Registered
02/12/2001
Points
495