Review: Halloween Candy
| | |
| --- | --- |
| Author: | Rikus |
| Added: | 06/11/2009 |
| Overall: | |
| Average: | 6/10 |

In Halloween candy, you or your friends who you can all control must try and not get caught by the evil doctor! The idea behind the game is a good one where you can control up to 5 other players to try and avoid a evil dr from stealing your candy.

However more time needs to be spend in making this game more exciting. But before we get to all of that lets go to the good stuff! The atmosphere in this game is great! I loved the random voices and that you can walk all over the house from the kitchen to the bedroom so you can go anywhere. The only thing you need to worry about in the game is try to not get caught by the evil doctor.

The graphics in the game are also very well done and I appreciated all the different characters and their background stories. However for starters the game could really use a mini-map that shows you were the evil doctor is in the house.

When I played for the first time with just 1 character I could walk for almost 3 minutes without encountering this evil guy. But when I played with all my characters, they were all killed off pretty quickly because I could not see were the doctor was located so I could not try and protect them.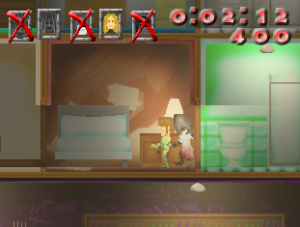 Screenshot 3



Also I would like to have more to do! Collecting power ups, or finding keys to locked rooms. I know the author did not choose to have weapons in this game on purpose so other stuff needs to be done to entertain the player like puzzles or something to reward the player for staying alive for a certain period of time other than a higher score.

Overall, the makings of a very cool and original game is here, and I loved the character selections! But more things need to be added to the game for a more rewarding game play experience.


| | |
| --- | --- |
| Presentation: | |
| Gameplay: | |
| Graphics: | |
| Sound and Music: | |
| Lastability: | |
| Overall: | |

Download This Game

Rikus
Administrator
Crazy for News
Registered
02/12/2001
Points
498