Review: Cannon Run
| | |
| --- | --- |
| Author: | s-m-r |
| Added: | 26/11/2013 03:29:46 |
| Overall: | |
| Average: | 5/10 |

PRESENTATION: For such a simple arcade game, a lot of work went into making it a professional-looking effort. There's a title screen, working menu options, and even a tutorial accessible right from the start. My only complaint is that the screen can be a tad small on larger displays, and even when using the Full Screen commands the game window may not go as large as you might like.

GAMEPLAY: Rarely in Klik history has the title of the game so succinctly captured the essence of the game itself... Use the arrow keys to dodge occasional volleys of cannon fire, and to move over/collect little green diamonds and health restore pickups that suddenly appear. I'm personally a fan of simple arcade games that you can pick up and play instantly, so this game earns my approval. That being said, I'd appreciate a bit more complexity as time goes on. Maybe some other objectives, ways to escape, multiple options for score bonuses, and so on.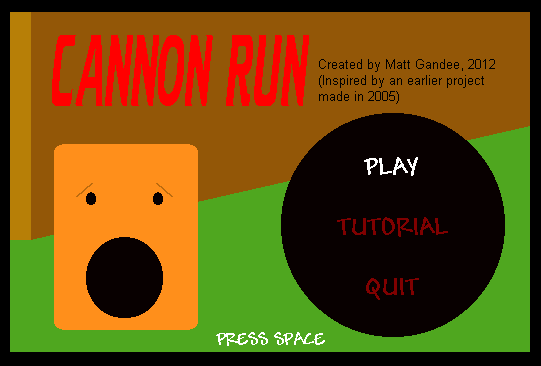 Screenshot 1



GRAPHICS: The graphical presentation could use some work. Personally, I'm not the strongest in this category either, but graphics of this level of detail are usually only in my own gamejam efforts where the whole game must be created in a day or less. However, seeing Blocky's terrified expression once he's been hit with a cannonball is a strangely satisfying visual treat that would likely have gone unnoticed had more attention been paid to graphics.

SOUND & MUSIC: Hrmm... There's quite obviously some stolen SFX in this game. That, and the quirky, oddball MIDI file playing in the background can be off-putting to some. For a small-scale arcade game though, this really isn't a big deal.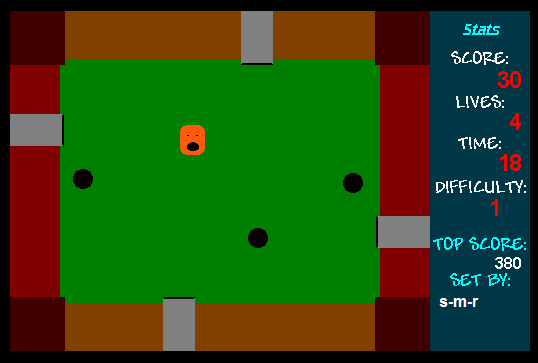 Screenshot 3



LASTABLITY: Adding in a high score record for the player can encourage them to come back and play more, and I was pleased to see the option. But considering there's very little to change one game session from the next, players will likely abandon this one once it's learned. Additionally, in the current version there's a bit of slow-down and a show-stopping bug that discourages players from frequent repeat-plays in the same session. To prevent automatic damage at the beginning of the game, players will have to exit the game after a single session, then restart the app. Not to the game's benefit.

OVERALL: This game would have been tolerated perhaps 10 years ago as a serviceable TGF offering. At this point in time, however, it shows some glaring flaws. The most glaring to me (and the one that likely leads to the aforementioned show-stopper) is the use of MIDI music. It just sours everything for me. STRONG POINT: ease of use and pick-up-and-play vibe; retro aesthetic. WEAK POINT: antiquated features and assets that gum up the works.


| | |
| --- | --- |
| Presentation: | |
| Gameplay: | |
| Graphics: | |
| Sound and Music: | |
| Lastability: | |
| Overall: | |

Download This Game
No comments have been posted for this review.
s-m-r
Slow-Motion Riot
Registered
04/06/2006
Points
1078