Teen Squad 2
Author:
Mr Game Uploader
Submitted:
15th May, 2002
Favourites:
0
Genre:
Miscellaneous
Downloads:
576
Rated:
Game of the Week Winner




Edited By Rikus on 3/19/2008

Three years after the first Teen Squad game, I tought it would be interesting to make a sequel. And here it is!!! TS2:SI was released last year, and had a REALLY good response. In fact, it has been played by more than 3000 people (and that,for me, is TOO MUCH!) and got MAXIMUM GRADE on 80% of the reviews. Besides that, I don`t think TS2 is a really great games.

t lacks better gameplay, and I should have dedicated more attention to the graphics and animations. Anyway, doesn`t matter: those errors are being corrected in Superhero GU! and TS3. All in all, TS2 is a really fun game, and a must-download for people who like TGF platform games. But could have been a little better, I admit it.

STORY: After saving the world so many times, Teen Squad became really famous. Jake became a superstar, and was corrupted by fame. Now a really arrogant and selfish guy, he spends all his time giving interviews and showing up in all the tabloids. The squadron, once united, is now separated. And,of course, Robotech will take some advantage of this! With a new robotic army, the evil robot captures the Teen Squad members, one by one. Will our heroes be able to save the world this time? The answer depends on YOU!



Review This Download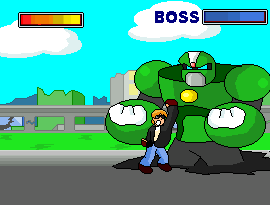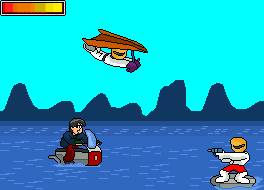 http://www.create-games.com/downloads/ts2.zip (2,15 mb )




Mr Game Uploader

Registered
15/05/2002
Points
400
Is this worth a look? Let others know!

Favourite