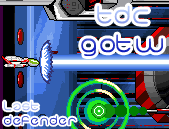 This weeks Game Of The Week award goes to Last Defender! A wonderfully crafted, yet extremely challenging shoot-em-up with lovely graphics and great gameplay.

Click here to download the GOTW

This weeks contenders for GOTW are Alien Breed 3001, Jerry Curl Jamal Demo, Exploding Bacon 1.5, Jedi Temple and Arc 1.1

Quick apology: Last week Arc was in the GOTW poll, but was removed because it needed updating. Henceforth it's in this weeks poll. Sorry about that.