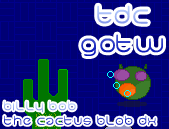 The People have spoken! In a quite surprising turn of events, Billy Bob The Cactus Blob DX has somehow managed to win this weeks GOTW. Congratulations to Phlibbit, whos game has pulverised the opposition.

Click here to download the GOTW

This week, we have a highly respectable total of three entrants for nomination. Yes, thats right... THREE. And they are - Great Balls Of Fire, Ultimate Anti Force and Raideo 1.2

Yes, there are very few contenders this week. But if you insist on not adding screenshots with your games, then they won't be nominated!