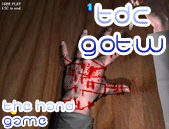 Out of a maximum of uh... two entries (hahahahahaha), this weeks winner of GOTW is The Hand Game, created by Asparagus Trevor. The idea is to stab the areas between your fingers in as quick a time as possible, but I found the freeplay mode much more fun ;) Well done.

Click here to download the GOTW

This weeks entrants - Meeklits v1.70, Plastipig Street Racer, Super Pinball 2, Plix v1, The Quest For Darla and iPublish Service Pack 2. Yay, more stuff this week means more contenders. Ok, so the iPublish Service Pack isn't a game, but it's still a klik application, so it counts ;) Good luck to all entrants!

Eventful Moments Of This Past Week:

Muz starting a topic entitled "What are your secrets to klikking?" Actually quite a good read, head HERE
Big Brother 5 starting again. Gaahhh. Watching paint dry is more interesting. And on that note, head HERE
Muz going on holiday for a while. Subsequently he's not expected to return to the community for about a month, if you include his plans to get used to university life. OH JOY!!!
Phizzy actually proving he has a use around here, by releasing a very cool open-soruce RPG battle engine. Nice one.