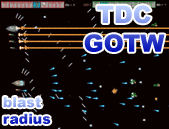 Sorry again for another late GOTW - been busy with that little thing called a life. Anyway, this weeks winner, created by the duo of DaDDe and CsaR, is Blast Radius, a cool shoot-em-up. Good work guys.

Click here to download the GOTW

This weeks entrants - Communist Mutants From Space, DownCounter, PINK: Prime, and Beanboy RPG.

So yes, half this weeks GOTW contains some entrants from Shabs RPG competition. Good luck to all entrants.