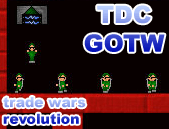 Trade Wars Revolution, a game in the style of Lemmings and created by Jarzka, is the 151st winner of GOTW. Nice one.

Click here to download the GOTW

This weeks entrants - FrankyHTML v1.0, Panzer Wagon, Xtirmination, Dr. Doc, The Great Piggy Escape, and LygoBox.

Shame really, nobody really cared about the GOTW poll this time, not one game took in more than seven votes.