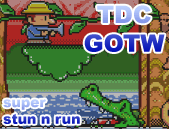 In a world of very few surprises, I have some super stunning news...
Chris Och
, creator of
Super Stun N Run
, has won this weeks GOTW. It's a great game; if you haven't played it yet... why?!
Click here to download the GOTW
This weeks entrants - MetaColor, CHOLO, Total Ong Bak, Patternbee Solo, Batch Processing Utility "Fat Batch", Clouds Kingdom 3, and Paint War I.
Last week more games were requested... now look what you've done! Loads for this weeks GOTW! Please don't vote for a game unless you've actually played it... don't vote for it just because the klikker is your favourite or anything...