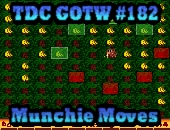 Munchie
narrowly takes this weeks GOTW award. Congrats to
Mruqe
for the win.
Click here to download the GOTW.
Alright, even the the GOTW script appears to be partially broken, it still managed to update the poll, so GOTW is go with the following titles:
Treasure Tower
,
Within a Deep Forest
,
Maximum carnage 2
,
Jewel Fever
,
Black Holes
, and
The keyboard typing test
.
Now, let's hope that the GOTW script is working, and not just pretending it is.