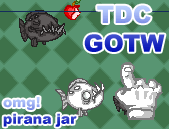 Oh lookie, I'm doing GOTW again... anyhow, this week sylzayz wins with his game OMG ! Pirana Jar. Congrats.

Click here to download the GOTW

This weeks entrants - Terragon, Meteor Mayhem, Ninja Business - Chapter One, Super Crawler Challenge, Tripline, Mysterious Floating Something, Mini Sound Studio, and Hell Creatures Rotten Corpse - Nightmare.

Well, nobody made me a platformer for my birthday. You SCUM! That issue aside, lots of interesting and original products this week - choose wisely! I was also debating on whether or not to accept Skyhammer, but since GOTW only accepts completed applications, sadly I had to discount it.