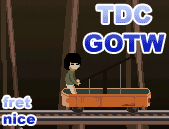 This weeks winner goes to the Guitar Hero guitar-only game Fret Nice, created by Mårten. Good work, soldier :)

Click here to download the GOTW

This weeks entrants - Clipboard Manager, Daily Click Admin Fun Facts, Plasma Warrior, and Depp.

This post will be my last for a while - I'm away on holiday for the next three weeks. While I am basking away on sun-kissed beaches, I would like to think that, where you guys live, it might be raining.