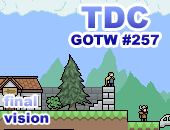 The winner of this weeks GOTW award - which is slightly late... apologies for that - goes for alspal's platform RPG Final Vision. It won quite convincingly, great stuff :)

The next GOTW will take place this Saturday, to try and get things back on track. Hope you like the new GOTW image which I suddenly felt the urge to tweak... it's a little stale now :)

Click here to download the GOTW

This weeks entrants - BrumBrum2, oXo, Pig, Zan-Zan: Episode 2, Velocity Dodgeball 1.2 and Good Times Gone.