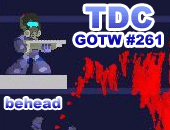 That nice, happy, cheery game Behead has won this weeks GOTW award. Created by Guru Rinpoche , it features an axe-wielding maniac. Rather worryingly, the author also states that lopping peoples heads off is "strangely addictive".

Click here to download the GOTW

This weeks entrants - Digger, Hasslevania: The Quest For Shuteye, and Bounce Away: Chapter v1.0.