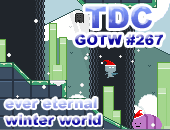 Christmas competition entry EverEternalWinterWorld, created by Ben of SilverNova, is this weeks winner of the (unexplained) extended GOTW poll... congratulations! Two weeks worth of entries for this weeks GOTW and then we can get back on track again :)

Click here to download the GOTW

This weeks entrants - Billy Blaubeere V2, Click Copter, BotZ: Trouble in BotCity, PsWe, Jamie's Revenge, Old Games Pack, Space Warz, RoDney ReMix, KSVRS Ratings Notepad, Juho's MAdventure, Bombing Room, Smash Face Volley and Legacy of Flan 4: Flan Rising.

Thirteen games?! Hoofa! Pick your choice very carefully!