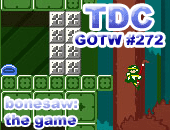 Created by Xerus, and quite possibly part of one of the most mismatched GOTW polls in the history of TDC, this weeks winner is Bonesaw: The Game - congratulations!

Click here to download the GOTW

This weeks entrants - A Very Simple Game, ArrowRun, Green Peace, Morder Hund, FreeRider, Ransom, and Dines Motion Blur Example.

Sorry again for the lateness of this weeks GOTW poll - we should be back to normal this Saturday, when voting will close (basically, you don't have long to vote)!