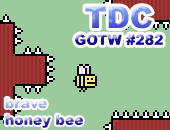 Grickmin's game, created for the 20-Event Klik Competition - called Brave Honey Bee - wins this weeks GOTW award. Excellent work there Mr Grickmin!

Click here to download the GOTW

This weeks entrants - Super Blob Frog, Super Smash Bros: Arena, Blue Friends, Pencil & Paper 20 Event Deluxe Version, Zoomstar MegaRacing Maximum, EmI, Abduction, and GunGirl.

I think I was slightly generous with the inclusion of Abduction... it didn't have a screenshot of in-game action, nor did it have a decent description. Next time I won't be so nice...