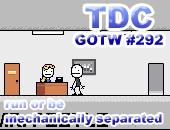 With quite a few votes, Jon Smeby's Run Or Be Mechanically Separated! has bulldozed over the competition in last weeks GOTW poll. Congratulations, methinks!

Click here to download the GOTW

This weeks entrants - Micro Mouse, Bumble's Beginning - Competition Version, Splotches! Compo Edition, Eternal Man, Pixelthiefs Super Complicated Physics Stuff Engine, Tig Duels for Extraordinary Gentlemen and Such Etc, Signature Creator v1.0, Jimmy's Unlikely Resurrection, Avoid The Evil Space Eel, Uppy Duppy, and Simple Loops.

This GOTW has been padded out by the numerous entries for Peblo's "tag-team" competition but it doesn't mean they're of poor quality as a result... on the contrary. Download everything and choose your vote wisely! Hugs n stuff, Chris.