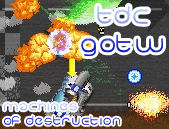 You all seem to like multiplayer robot butt kicking, and Machines of Destruction by Ben of Fallen Angel has won this weeks GOTW award, so congratulations to you Ben!

Click here to download the GOTW

This weeks contenders for GOTW are iSAS, Invasion of the Mini-Bots, Heavy Mech AL, Scorched Metal and Astro Dude - Part One

What are you waiting for? Get voting!