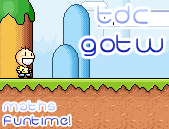 Congratulations must go to CYS for his game Maths Funtime, which won this weeks GOTW. The game is a rarity for klik - a learning program, which happens to be pretty good. Worthy of winning.

Click here to download the GOTW

This weeks entrants - Titan Omega Revelations, Bubble Girls Pack Of Fun 3, Ditto! Extention Installer, Colors Next and Tinmen Red Lite

Eventful Moments Of This Past Week:

Nicolas submitting a game with a very great title - Shoot Stuff
Muz stating that people who hang around chatrooms and IRC all day don't have lives. Absolutely correct, mate!
Colej_uk showing us the back of his French book
Chicken continually annoying everyone with his presence after being removed twice from TDC

Yes, sadly this week was pretty quiet in the stupidity stakes. Maybe next week will improve.