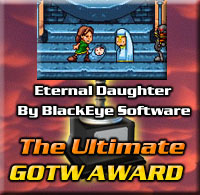 So yes, as mentioned further down, Eternal Daughter was the Ultimate GOTW. Now we can get things back to normal, by starting afresh! There were a lot of games submitted during the last month, so I'm only going to pick the best of them - aka, the ones that made the front page since GOTW #99

This Weeks Entrants -



Jungle Survivor
Penguin Power: Ice Olympics
Cruentus: Time Slayer
Tango Strike
Rounder..?
Worms Breakout
Follow Da Leader


Eventful Moments Of The Last Week

Clubsoft finally added an IP search for us admins at TDC. This means we can now detect those who have made multiple (and fake) accounts - and we can get rid of them. Huzzah!
Kjarom submitted a working StarFox engine! I was quite excited, until I downloaded it, and, er... oh.
Batel of Neonair has started an avatar removal campaign. Click here to find out more...
A campaign was launched in the forums to bring back "Eventful Moments"... - Well, you've got your wish, Jamesbuc!
A little thing called the Click Convention took place last weekend. In Paris. The blackguards! Still, next years convention is likely to take place back in Blighty. Whereabouts, though? We'll have to wait and see. Until that decision is made, a report has been written on the features that MMF2 has/will have. Go to the Click Convention website to find out more.