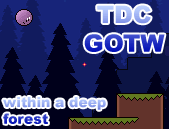 The winner of the revised GOTW poll is Within A Deep Forest, created by Nicklas_N. Second came Treasure Tower by David Newton.

Click here to download the GOTW

This weeks entrants - Easter Avenger, Super Mario Quest: Deluxe, Muda Saga, Hop Chop Spin, Frikik, Blast Radius 2, Aquanoid 2, Mineral Miner, thewreck's Black Hole, and Equin Adventures.

Loads of games this time to vote for - in fact, two weeks worth. Vote carefully. By the way, there were more games submitted, but I've chosen to pick the better ones this time.