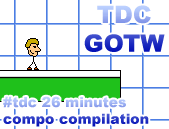 A rather unorthodox and somewhat unique GOTW this week. In the #TDC IRC channel, a small competition was run to create a game, for some reason, in 26 minutes - hence the name of #TDC 26 Minutes Compo Compilation. Submitted by Noodle, but the four games included were also, aside from himself, created individually by Phizzy, DaVince and Peblo. So um, yes, good work.

Click here to download the GOTW

This weeks entrants - Centaurus Disease Screensaver, MooClick ServerSided Register&Login System, Skud, Multiplayer Online Server, Escape, OMG ! Pirana Jar, The Running Man 2, and Supriser.

It's still my birthday very soon. 24th July. Monday. Presents in the form of platformers are acceptable, as are £10 notes. Give and you shall receive, in the form of DC Points and a custom rating (if I like it) of your choice.