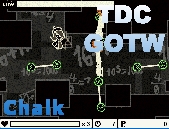 Chalk
(39 Votes) takes this GOTW with a pretty healthy lead over Alex Adventure (22 Votes) (An excellent game in it's own right I'm told; unfortunately it crashes for me XD). Congrats to
Zerotau
for the win.
Click here to download the GOTW.
We've got a decent amount of games to choose from this week; but we ALWAYS need more (hint hint). Without further delay, here are your choices for this GOTW.
Tempest City
,
Side Burner
,
Monster Park
, and
Future Pong
.
Keep those games coming in everyone!