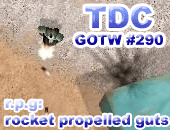 R.P.G - Rocket Propelled Guts wins this weeks GOTW with a rather dominating performance in the polls. Congratulations to Mark Radon for a job well done :D

Click here to download the GOTW

This weeks entrants - OldManClayton: SAVE FDK!, Mazey, Impossible, VectorChat, Chaos Wave 1.0, Gunfighter, FIG, Vignette Wizard, Lily, Abstruse Ball, and Monsterball X-Themed.

First post for about two months! I decided to just take a break from posting for a while... look how many games I come back to!