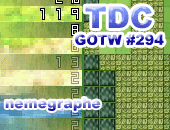 Nemegraphe, created by Nega, took a rather dominating role in the GOTW poll this week and ended up in first place - congratulations :D

Click here to download the GOTW

This weeks entrants - PigQuest, Sleepwalker, Blind NINJA, MegaBattle Complete, Quick Race, RGBeat, Star Trek Online Battle, Tetrodance, GunDude Game, and 15 Puzzle.

There have once again been many multiple submissions this week by various people. Don't forget, only one of your games can make the poll each week!