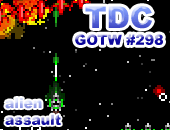 KNPMASTER is this weeks victor in the GOTW polls with his retro shoot-em-up Alien Assault. Narrowly pipped to the post was HardCity.

Click here to download the GOTW

This weeks entrants - Ariane Odyssey, Meeko Arrangement, Pork, Video Synchronisator V1.0, Puzzlenator, Don't Look Down!, PixelSmash!, RADIATED, and Crazy Voxelish Example.

Hoorah... submissions, glorious submissions! The summer games drought is indeed over!