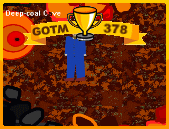 The winner of Game of the Moment #378 is Hryak Legend with 5 votes. Congratulations MinkoedZamorVedro!
The nominees for GOTM #379 are:
Also check out future GOTM contenders:
Knight's Quest RPG DEMO, a role playing game by BigAl0104 where you can can embark on an epic journey to rescue Princess Amelia from the evil Karlov!
Shrink and Destroy by Tomssuli, a mech platformer-shooter with boss fights!
P.S. I also run the Kliktopia archive, which has just launched an unofficial revival of the Vitalize! V-Cade. Go for the high-scores in these classic Click games making use of Yxkalle's Vitalize launcher!