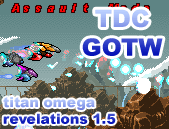 Congratulations should go to Jay White this week. His revised version of Titan Omega Revelations proved to be significantly better than his poorer original, and this is probably the first game to win GOTW twice! Saying that, Ball B**tard deserves an honourable mention too, as it had only two votes less.

Click here to download the GOTW

This weeks entrants - Depth Diver, Defender Of Grim, Mr Boo, and Virus BK. Not much to choose from this time; but then again, not much was submitted this week (that was worthy, anyway)...

Eventful Moments Of This Past Week:

Necropixel Giants Hurricane Appeal. Read the news post below this one, and if you can, donate!
Gamemaker vs The Games Factory - obviously TGF is better, but some clown thinks otherwise... click here for the debate!
Shab has written an article on how to get your game on the front page. Click here to read it, it's quite important that these suggestions are followed...